SERVICES
While we specialize on printers, we are happy to give you an estimate
on almost any printer or fax machine.
Fixed the First Time
Our service technicians are fully trained on the latest printing equipment and the older workhorse models, from a wide range of manufacturers. With many years of service experience, they can identify the specific cause of a problem and repair it so that it will not reoccur. Our technicians will never leave your office without first testing your printer to ensure its proper operation. And they'll make sure to inform you if they find any problems that are likely to cause future malfunctions. Click Here to view our FAQ page.
Rapid Response
We understand that your printer is critical to your office operations and that down time can be very expensive. When you call us for printer repairs, we'll dispatch a service technician to your site quickly, with all the tools necessary to fix the problem fast. Because our trucks are stocked with a large inventory of replacement parts, we can usually repair a printer on site within an hour.
Click Here to browse our Service Rates.
The Key is Maintenance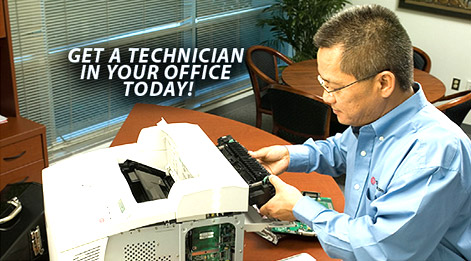 Laser printers have achieved dominance in the home and office markets because they are designed to operate efficiently, economically and reliably for many years. They do, however, require periodic professional attention. In fact, regular preventive maintenance can double a printer's useful life, while keeping paper jams and other malfunctions to a minimum. Click Here to view our Service Plans. That's where we can help. Click Here for our contact information or Email Us at our service department for an estimate. To get in touch right away call us at:
1 (800) 619-LASER.
Copyright Affordable Printer Care 2023. All rights reserved.